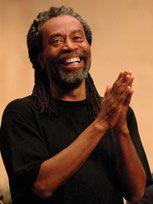 Heute möchte ich euch die Akkorde von "Don't Worry, Be Happy" ein Lied von Bobby McFerrin posten. Der Song wurde im September des Jahres 1988 von McFerrin veröffentlicht.
Don't Worry, be Happy! waren die letzten Worte von Meher Baba, dem indischen Guru, der nach diesen Worten 44 Jahre lang bewusst kein Wort mehr sprach. Der Titel des Songs basiert auf diesen letzten Worten des Gurus.
Viel Spaß beim Spielen!
 Don't worry, be happy! 



INTRO:B  C#m  E  B (2 X)

B
Here's a little song I wrote
C#m
You might want to sing it note for note
         E        B
Don't worry, be happy.

    B
In every life we have some trouble
    C#m
But when you worry you make it double

         E        B
Don't worry, be happy.
   E               B
Don't worry, be happy now.


B  C#m       E         B     
   Don't worry, be happy. Don't worry, be happy.

B  C#m       E         B     
   Don't worry, be happy. Don't worry, be happy.

B
Ain't got no place to lay your head

C#m
Somebody came and took your bed
       E         B
Don't worry, be happy.

B
The landlord say your rent is late
C#m
He may have to litigate
        E         B
Don't worry, be happy.
    E            B
Look at me   I'm happy.

 
B    C#m          E         B
     Don't worry, be happy.
B                                     B             B
Here I give you my phone number. When you worry, call me,
I make you happy.

B     C#m       E         B
  Don't worry, be happy.


B
Ain't got no cash, ain't got no style
C#m
Ain't got no gal to make you smile

         E        B
Don't worry, be happy.

B
'Cause when you worry your face will frown
  C#m
And that will bring everybody down
        E         B
Don't worry, be happy.
    E         B
Don't worry, be happy now.


B   C#m           E         B                 B
       Don't worry, be happy. Don't worry, be happy.
B   C#m            E         B                 B
       Don't worry, be happy. Don't worry, be happy.


B
Now there, is this song i wrote 
  C#m
i hope you learn it note for note
                  E
like good little children
  B               
DonŽt worry, be happy
  B
Listen to what I say

   B
In your life expect some trouble.
         C#m
When you worry you make it double
          E         B              B
DonŽt worry, be happy, be HAPPY! NOW! 


B C#m E B (5 x)